Winning Despite DNA: The Truth You Must Reveal by Jason Sheffield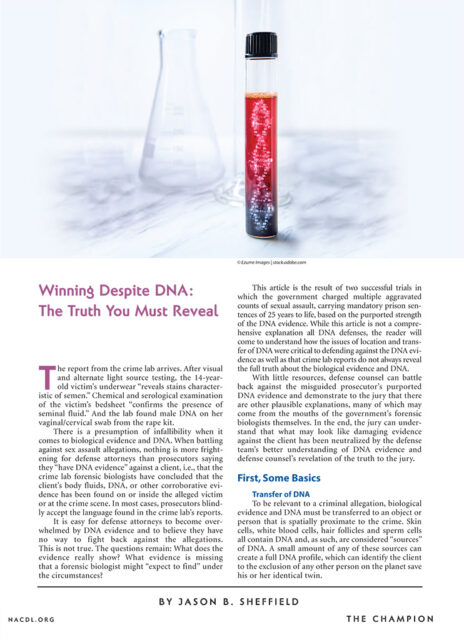 Jason Sheffield's article Winning Despite DNA: The Truth You Must Reveal was published in the April 202 issue of The Champion, by the National Association of Criminal Defense Lawyers.
The report from the crime lab arrives. After visual and alternate light source testing, the 14-year-old victim's underwear "reveals stains characteristic of semen." Chemical and serological examination of the victim's bedsheet "confirms the presence of seminal fluid." And the lab found male DNA on her vaginal/cervical swab from the rape kit.

There is a presumption of infallibility when it comes to biological evidence and DNA. When battling against sex assault allegations, nothing is more frightening for defense attorneys than prosecutors saying they "have DNA evidence" against a client, i.e., that the crime lab forensic biologists have concluded that the client's body fluids, DNA, or other corroborative evidence has been found on or inside the alleged victim or at the crime scene. In most cases, prosecutors blindly accept the language found in the crime lab's reports.

It is easy for defense attorneys to become overwhelmed by DNA evidence and to believe they have no way to fight back against the allegations. This is not true. The questions remain: What does the evidence really show? What evidence is missing that a forensic biologist might "expect to find" under the circumstances?

This article is the result of two successful trials in which the government charged multiple aggravated counts of sexual assault, carrying mandatory prison sentences of 25 years to life, based on the purported strength of the DNA evidence.