Douglas N. Peters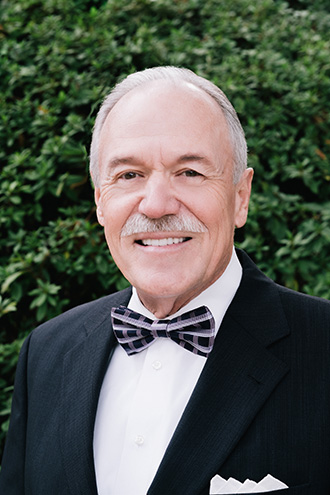 Douglas N. Peters has been recognized each year as a Super Lawyer in Georgia for the past 15 years, and has been named "Georgia Lawyer of the Year" for Criminal Defense for 2013, 2016, 2018, and 2022 by The Best Lawyers in America.
Doug graduated from the University of Georgia (B.A.) in 1971 and the University of Georgia School of Law (J.D.) in 1974. After law school, he served as Assistant District Attorney in the Clayton Judicial Circuit and Judge of the Municipal Court for the City of Lithonia before founding what is now Peters, Rubin, Sheffield & Hodges, P.A. Doug is a past President of the Georgia Association of Criminal Defense Lawyers and past Chairman of the Association's Research Services Committee. He is a member of the National Association of Criminal Defense Lawyers, the American College of Trial Lawyers, The National Trial Lawyers TOP 100 Trial Lawyers, and has  attained the highest rating of AV by Martindale Hubble.
Publications and Speaking Engagements
Doug is nationally recognized for his expertise in defending individuals accused of committing crimes against children. He authored The Defense of the Child Molestation Case in Georgia, a book distributed through the Georgia Association of Criminal Defense Lawyers. It is available to over 2,000 Association members. Doug lectures nationally and locally to judges, lawyers, investigators, and other professionals, and he organizes, moderates, and serves as keynote speaker for his annual Georgia seminar on the defense of the child molestation case in Georgia. A chapter of his book focuses on defending against false allegations of shaken baby syndrome and abusive head trauma. Doug has been invited by the National Child Abuse Defense and Resource Center in Holland, Ohio to lecture on defending against allegations of child physical abuse at national conferences in Las Vegas and Reno, Nevada. He has also been invited by organizations to lecture on biomechanical defenses to allegations of shaken baby syndrome and abusive head trauma in Georgia, Florida, Alabama, and Indiana.
Recognitions and Honors
Doug's peers have repeatedly recognized his exemplary legal work. The Wall Street Journal and The New York Times list Doug in Best Lawyers in America, and The Atlanta Journal Constitution listed Doug in Georgia's Best Lawyers and named him "Georgia Lawyer of the Year" for Criminal Defense for 2013, 2016, 2018, and 2022. In 2009, Doug received the Georgia Association of Criminal Defense Lawyers' prestigious Rees Smith Achievement for Excellence Award. Doug is the sixth lawyer to ever receive this recognition in the Association's 35 year history. In 2013, Doug was honored as the second Association member ever to receive the G. Terry Jackson Friend of the Constitution National Award in recognition of "passion, excellence, and leadership" in criminal defense. At the award ceremony held at the State Bar of Georgia, Association representative and partner, Jason Sheffield said,
"Doug Peters is an unbelievable lawyer: intuitive, intelligent, creative, visceral, powerful, compelling, and compassionate. Time and time again, juries have returned verdicts in Doug's cases that have expressed their belief in Doug's clients' innocence."
Trial Practice
Doug's representation of his clients has resulted in local and national television appearances including 20/20, Dateline, 48 Hours, The Today Show, and On the Record with Greta Van Susteren. Doug has represented defendants in high profile homicide prosecutions including the "Dunwoody Daycare Murder Case," the Fulton County motorcycle shop shooting by Atlanta police officers, and the double homicide case against dentist Dr. Bart Corbin. His numerous jury trial acquittals include State of Georgia v. John Doe (first successful "sexsomnia" defense in Georgia in the face of aggravated child molestation charges), and Court TV cases of State of Georgia v. Dr. Eva Carrizales (neonatologist accused of killing a premature baby under her care in the hospital) and State of Georgia v. Christopher Routh (16 year-old babysitter accused of aggravated child molestation and murder of a 3 year-old child). Doug won acquittals in State of Georgia v. Mark and Cara Dykes (parents accused of shaking their 2 month-old daughter and breaking both her legs), and in State of Georgia v. Jeanne Daniel (in-home daycare provider charged with shaking 6 month-old child resulting in permanent brain damage and blindness). In Jeanne Daniel's case, Doug successfully defended against the first pre-trial attempt by prosecutors in Georgia to exclude biomechanical expert testimony challenging the shaken baby syndrome. This victory led to a jury verdict of not guilty.
Appellate Practice
Doug's post-conviction appellate work has also shaped Georgia law in defending individuals accused of crimes against children. Doug authored the Amicus Brief on behalf of the Georgia Association of Criminal Defense Lawyers, where the Georgia Supreme Court reversed a criminal conviction in Barlow v. State, 507 S.E.2d 416. The Barlow decision changed the law in Georgia to allow individuals accused of child abuse to present expert testimony informing juries of the proper techniques required to interview child victims and of the unreliability of children's statements when improper techniques are used. Doug served as co-counsel in the case of Goldstein v. State, 640 S.E.2d 599, where the Georgia Court of Appeals reversed a criminal conviction and outlined an emerging standard requiring the use of proper expert witnesses in child molestation trials. In Darst v. State, 746 S.E.2d 865, Doug was retained by the defendant following guilty verdicts returned against the defendant for Aggravated Child Molestation and the imposition of sentences totaling 60 years to serve. Doug presented evidence at the Motion for New Trial hearing including impeaching facts from the alleged victims' school records, therapy records, juvenile court records, and DFACS records, as well as testimony from 6 lay witnesses and 3 expert witnesses, creating a post-trial record resulting in reversal of defendant's convictions in the Georgia Court of Appeals and the Georgia Supreme Court. In State of Georgia v. Melanie Ware, other counsel had represented the accused at trial; she was found guilty of murder and sentenced to life in prison for the "shaking death" of a 6 month-old baby she cared for in her home. Following her trial, Doug successfully overturned the conviction by assembling experts whose post-trial testimony persuaded the trial judge that the child died from sickle-cell disease—not from shaking. Doug's post-conviction successes also include overturning convictions for two clients formerly represented by other counsel and wrongfully convicted of aggravated child molestation in State of Georgia v. Essick and State of Georgia v. Mauldin.
Author Of
Doug Peters, DEFENSE OF THE CHILD MOLESTATION CASE IN GEORGIA, Georgia Association of Criminal Defense Lawyers — Updated yearly for distribution through Georgia Association for Criminal Defense Lawyers
Doug Peters, DEFENDING FALSE ALLEGATIONS OF SHAKEN BABY SYNDROME, Georgia Association of Criminal Defense Lawyers — Updated yearly for distribution through Georgia Association of Criminal Defense Lawyers
Doug Peters & Bobby Lee Cook, COMPUTER SIMULATION IN THE DEFENSE OF CRIMINAL CASES: THE LAW IN GEORGIA, Georgia Association of Criminal Defense Lawyers (1999)
Practice Areas
More About Douglas N. Peters